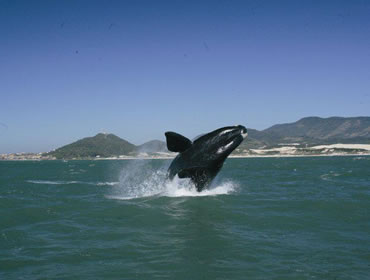 Whale watching – an exciting and unique experience. Accompany from a close distance the spetacle of these docile giants and their offspring in the waters of Praia do Rosa and region!
Pioneer in Brazil in the boat observation of whales and encouraging the whale watching modality, Turismo Vida Sol e Mar travel agency has a flotilla of boats especially built and prepared for watching activities and getting near the whales.
Promoting excursions that obey the strict safety norms and respect for the animals, the rides are oriented by biologists and technicians, trained to give complete assistence and orientation to visitors, turists and researchers.
Know everything there is to be known about whale watching and consult other information
clicking here.