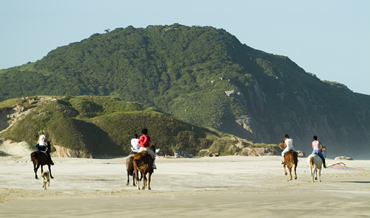 Life at Praia do Rosa has excitement, romance, nature, sport and lots of time on the beach. And if you prefer, peace and quiet. But above all, it has magic and enchantment.
- Walk the trail through the south part of the coast, passing Portinho to watch the sunrise.
- Walk Caminho do Rei, from the top to enjoy the view of Praia do Rosa Bay and Ibiraquera Lagoon. Watch the sunset from there.
- Walk the trail that goes to Praia do Luz and Barra da Lagoa de Ibiraquera.
- Walk the trail margin to Canto Norte which takes to Praia Vermelha and Ouvidor.
- Taste the surprising and varied gastronomy available at Praia do Rosa beach.
- Learn how to surf.
- Do Right Whale watching from the sea, monitored by biologists in special boats, from July through November.
- Visit the historical city of Laguna, its "Fisher Dolphins" and Farol de Santa Marta (35 km).
- Go up the mountain Serra do Rio do Rastro (90 km).
- Boat rides to the region islands.
- Visits to the region waterfalls.
- Horseback riding, accompanied by local guides.
- Go to the Historical Center and the fishers' villa in Garopaba.
- Go shopping in the charming little shops in Garapoba (16 km).
- See the cave inscriptions on the rocks of Barrinha in Praia da Ferrugem beach.
- Go to the sand dunes on the beach Praia do Siriú, ideal for sandboard practicing.
- Go to Right Whale Museum in Imbituba.
- Reserve a day-use at the island Ilha do Papagaio (30 km).
- Go to the beautiful beaches around Rosa Beach: Ibiraquera - 4 km, Silveira - 18 km, Luz, Vermelha e Ouvidor - 4 km, Barrinha e Ferrugem - 18 km, D'água, da Vila e Siriú - 25 km and also, Gamboa and Garopaba.