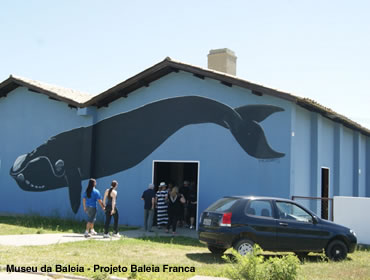 Whale Museum, recovering the memory to build a sustainable present.
Located in Praia do Porto, in the restored instalations from the last whaler station of the south of Brazil, Museu da Baleia in Imbituba is the only of its kind in Latin America.
As a result of joining forces, Right Whale Project, Imbituba City Hall, entrepeneurial leaderships of the Region and Petrobras, the Museum shelters an important collection about the slaughter and Right Whale's almost annihilation, as well as the history of fight and preserving efforts to recover and defend these cetaceans.
Working Hours: Tuesdays through Fridays, from 8.00am to 12.00pm. Saturday, from 8.00am to 12.00pm and from 2.00pm to 5.30pm. For visitation there is a R$ 3,00 entrance fee.
Excursions and school groups must schedule their visit in advance through the telephone: 48 3255.2922.